Thank you for helping to get the DKHS students off to a great start! We are in need of college-ruled spiral notebooks and book covers. Shopping is easy with our Panther Den wish list: amzn.to/47lcA3Q. We appreciate your support!!
Attention High School Parents: Parents. We will be NWEA testing next week on Wednesday (9/20-Math) and Friday (9/22-ELA). All freshmen, sophomores, and juniors take both tests and report to school at the regular time. Make sure to bring your charged Chromebook. Seniors do not take these tests and will need to report to school on a two-hour delay. First period for seniors will start at 9:55 on Wednesday and Friday. (9/20) and (9/22).
Welcome to Delton Kellogg High School Class of 2027. High school staff surprised incoming freshman by placing a Class of 2027 sign in their yards this week.
Delton Varsity Football players & cheerleaders greeted our elementary students this morning.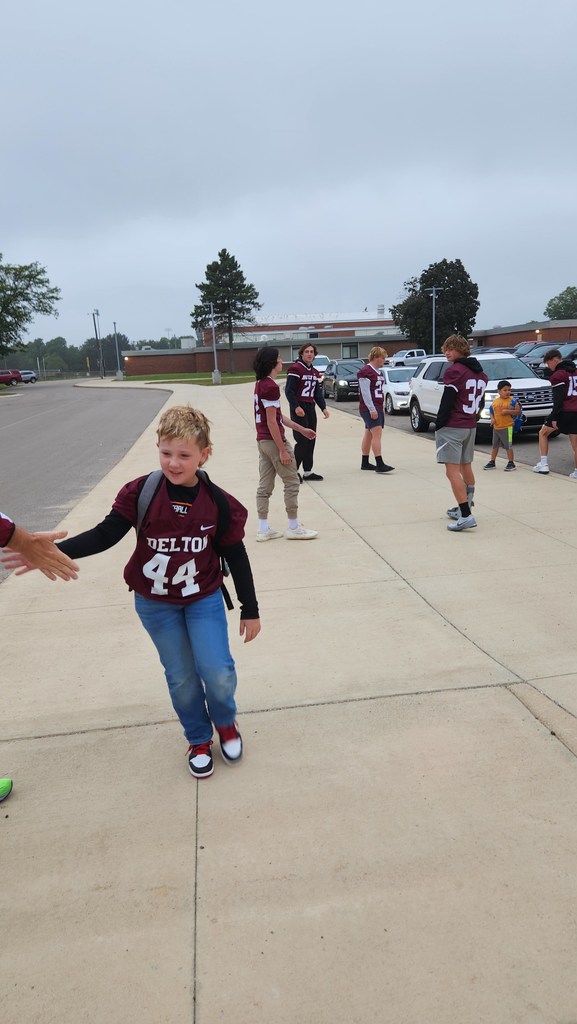 Half day reminder
Parents please bring in your students medication and paperwork to Open House on August 31.
Athletics 8/28-9/2
🎉 Delton Kellogg Seniors! Let's Get Artsy! 🎨🚗 🖌️ Senior Parking Spot Art Project 🖌️ 🚗 Claim a spot, rock your design! 📅 Grab forms from the office. ✅ Design approval needed. 🎨 Paint when you please! 🎉 Your chance to shine, DK Seniors!
Middle School Volleyball starts on Monday, August 28. Please make sure your physical is up to date and in the High School Athletic office.
Admission for tonight's JV Football game scheduled for 7:30 will be $6 cash(Under 4 years of age free)
Due to the heat index, tonight's JV Football game will now kick off at 7:30 pm. JV players are to report to the locker room by 5:30 p.m.
Middle School Athletic Practice times. Cross Country will begin practicing on Monday, August 21 from 5:30-6:30. Volleyball will begin practicing on Monday, August 28 from 3:00-5:00. All athletes MUST have an up-to-date physical on file in the High School Athletic office before they can participate. Any questions contact the Athletic Office at 623-1524
🐾 Prepping the Panther Den for a New School Year! 🐾 Hello Supporters, Your amazing backing made last year's Panther Den a success! As we gear up for a new school year, we need your help again. To kick off the year strong, we're restocking the Den. You can now contribute easily through our Amazon Wish List link at amzn.to/47lcA3Q. Your generosity empowers our students for a fantastic start. As always, you are welcome to shop yourself and drop items off at the high school office or if you would like to make a monetary donation, we will do the shopping for you. Thank you for your ongoing kindness. Let's make this year great together! With gratitude, The Panther Den Crew
2023-2024 Gate Admissions for SAC Schools
Empowering the Panther Den for a Fresh Year! Hello DK Family, Looking back at the tremendous impact you had on the Panther Den last year fills us with awe and gratitude! As we step into a brand-new school year, we're excited to reach out to you once again. To infuse this year with positivity, we're restocking the Den, setting our students up for success right from the start. You're invited to contribute in various ways: shop yourself and drop off items at the high school office, explore our new Amazon Wish List for easy contributions (amzn.to/47lcA3Q), or even consider making a monetary donation. Your generosity lays a strong foundation for our students. Let's join to make this year the most extraordinary one yet! With heartfelt appreciation, The Panther Den Crew
Delton Community, Let's Thank Our Supporters! 🙌 Share this post far and wide!! Today, let's unite in gratitude for the amazing supporters who've transformed The Panther Den into a haven of support and growth for our students. Their unwavering dedication deserves our collective thanks. These wonderful supporters have made a lasting impact on our students' lives, creating an environment of empowerment and growth. Their generosity has helped provide essential resources for learning and development. A special shoutout to our outstanding partners: • Hickory Corners Bible Church • Thornapple Valley Church • Delton Faith United Methodist Church • Delton District Library Staff and Patrons • Delton Area Rotary • Delton VFW 422 • The Shack • Project Linus • The Hair Garden • Rockin Rebel Nails • Delton Kellogg Schools Teachers and Staff • Delton Kellogg Community Members • Amazon Delton family, you are appreciated! The Panther Den Crew
Thank you sponsors!
Athletics 8/14-8/19